BOB MOSES
TOM HOWIE AND JIMMY VALLANCE ARE BOB MOSES, AN ORIGINAL DUO FROM VANCOUVER, CANADA WHOSE DEBUT ALBUM, DAYS GONE (2015) CREATED BY GUITARS AND AMBIENCE WITH LYRICAL DEPTH, WAS PLACED AS ONE OF THE MOST PROMINENT IN THE ELECTRONIC SCENE!
THEIR PERFORMANCES ARE POWERFUL AND A MUST SEE LIVE ACT! THE GROUP RELEASED THEIR NEW STUDIO ALBUM ON OUR FESTIVAL, WITH THE SINGLE: 'HEAVEN ONLY KNOWS'.
TITÁN
EMILIO ACEVEDO, JULIÁN LEDE AND JAY DE LA CUEVA ARE TITÁN, ONE OF THE MOST IMPORTANT ELECTRONIC PROJECTS IN MEXICO.
IN 1999, THEIR ALBUM ELEVATOR, TOOK THEM ON TOUR AROUND THE WORLD.
AFTER A BREAK OF ALMOST 10 YEARS THEY REUNITED IN 2016 WITH DAMA, AN ALBUM PRODUCED BY NICK LAUNAY (KILLING JOKE, GANG OF FOUR, NICK CAVE).
DJ TENNIS
FROM PARMA, ITALY, DJ TENNIS(MANFREDI ROMANO) GREW UP IN AN ENVIRONMENT FAR FROM MUSIC.
IRONICALLY, ROMANO ALWAYS HAD A SPECIAL INTEREST IN SINGING, THE COLLECTION OF INSTRUMENTS AND THE CREATION OF NEW SOUNDS.
TODAY, DJ TENNIS IS ONE OF THE MOST INFLUENTIAL PRODUCERS IN THE ELECTRONIC SCENE, FOUNDER OF THE LIFE AND DEATH RECORDS, AS WELL AS AN ACTIVE CHEF, PART OF THE RESTAURANT COMMUNITY IN MIAMI, U.S.
MUSEUM OF LOVE
PAT MAHONEY IS A FUNDAMENTAL PIECE IN LCD SOUNDSYTEM, HIS DRUM AND EXECUTION ARE UNMISTAKABLE AND CORE FOR THE PROJECT. HOWEVER, THE DJ AND PRODUCER IS ALSO IN CHARGE OF MUSEUM OF LOVE, A BAND WITH DENNIS MCNANY THAT PRODUCES SOFT AND ELEGANT SOUNDS HIGHLY INFLUENCED BY THE NEW ROMANTIC MOVEMENT OF THE 80S.
THIS YEAR THE COUPLE IS PREPARING NEW MATERIAL, WHICH IS EXPECTED GO OUT BEFORE THE END OF THE YEAR.
RANDOM RAB
TALKING ABOUT RANDOM RABIS TALKING ABOUT A PASSIONATE OF SOUND EXPLORATION, THE MULTI-INSTRUMENTALIST USES HIS SKILLS TO CREATE MUSIC THAT HAS VARIOUS INFLUENCES RANGING FROM TRIP-HOP, CLASSICAL MUSIC AND ARABIC SCALES. RABBI CLINTON, ALSO KNOWN AS "THE MASTER OF EMOTION", IS ONE OF THE MAIN REPRESENTATIVES OF THE IDEOLOGY OF TRANSFORMATION FESTIVALS, NOTED FOR INCLUDING DISCIPLINES SUCH AS ART, MUSIC AND BODY LANGUAGE.
ÖONA DAHL
ÖONA DAHL IS PASSIONATE ABOUT ELECTRONIC MUSIC AND EVERYTHING THAT IT INVOLVES. SOMETIMES ART, DESIGN OR SOUND WAVES, HELP THE PRODUCER AND DJ TO CREATE NEW EXPERIENCES FOR ALL OF HER AUDIENCE.
HER SETS ARE REGULARLY LOADED TECHNO, DEEP HOUSE AND SONICEXPERIMENTATION, ALTHOUGH THE INTENTION IS TO ALWAYS ACHIEVE A BALANCE BETWEEN LIGHT AND DARKNESS ON THE DANCE FLOORS.
LOVEFINGERS
LOVEFINGERS, FOUNDER OF THE ESP INSTITUTE RECORDS, CREATOR OF THE PRESTIGIOUS BLOG LOVEFINGERS.ORG, MUSICIAN, DJ AND PRODUCER; THESE ARE JUST SOME OF THE PROJECTS THAT DESCRIBE THE WORK OF ANDREW HOGGE.
ORIGINALLY FROM LOS ANGELES, CALIFORNIA, HE HAS BECOME ONE OF THE LEADING DJS ON THE WEST COAST, THANKS TO HIS ECLECTICISM ON BOOTH AND BEHIND THE TURNTABLES.
PEPE MOGT
FOUNDER AND FUNDAMENTAL PART OF THE NORTEC COLECTIVE, DJ, MUSICIAN AND PRODUCER, PEPEMOGT, IS ONE OF THE LIVING MUSICAL LEGENDS OF MEXICO.
THE TIJUANENSE IS KNOWN FOR BEING ONE OF THOSE MUSICIANS CAPABLE OF CAPTURING WHAT HE SEES AROUND HIM AND CONVERTING IT INTO SOUND WAVES.
PEPE IS CURRENTLY WORKING ON NEW MUSIC WITH A FOCUSED DIRECTION TO TECHNO, WHICH HAS HIM MANIPULATING MUSIC BEHIND THE TURNTABLES.
PATTERNS
PATTERNS ONE OF THE MOST IMPORTANT CENTRAL AMERICAN PROJECTS OF THE ALTERNATIVE SCENE. COMPOSED BY ESTEFANI BROLO, LUIGI JIMÉNEZ AND MARIO MIRANDA, PATTERNS IS A MIX OF ENERGY, DISCO, POP, TROPICAL NEW DISCO AND HAS A LOT OF POWER IN THEIR PERFORMANCES. NOWADAYS THE BAND IS WORKING IN THEIR NEW ALBUM, THE SUCCESSOR OF DANGEROUS INTENTIONS (2015).
ALEJANDRO FRANCO
CREATOR OF THE GUADALUPE VALLEY FESTIVAL, FOUNDER OF COMMONSENSE RECORDS, BESIDES BEING ONE OF THE MOST OUTSTANDING MUSICAL JOURNALISTS IN MEXICO AND LATIN AMERICA. DJ, PRODUCER, FILM DIRECTOR AND RADIO HOST.
HE´S ALSO FOUNDER OF THE CONTENT PRODUCTION COMPANY GRUPO SENTIDO, KNOWN AS THE HOME OF MEDIA, WARP, THE MULTIPLATFORM MUSIC AND LIFESTYLE FOUNDED BY HIM IN 2006. IN HIS DJ PHASE, ALEJANDRO STANDS OUT FOR OFFERING SETS BASED ON DIFFERENT GENRES AND ARE DEFINED AS A SOUND TRIP.
SAAND
MICHAEL SANDLER IS ONE OF THE MOST PROLIFIC DJS AND PRODUCERS IN THE ELECTRONIC SCENE OF HIS NATIVE LOS ANGELES, CALIFORNIA.
UNDER THE ALIAS SAAND HE FOUND HOW TO DELIVER HIS SONIC DIVERSITY THROUGH SETS THAT, WITHOUT FORGETTING THE DANCE FLOOR AND THE STRENGTH OF THE BEATS, CONTAIN ATMOSPHERES AND ORGANIC PERCUSSIONS THAT GIVE A DIFFERENT TONE TO HIS SOUND.
RANDOM RECIPE
RANDOM RECIPE, THE CANADIAN TRIO COMPOSED BY FRANNIE HOLDER, FAB AND LIU-KONG HA STANDS OUT BECAUSE OF THE MIXTURE OF SOUNDS IN THEIR MUSIC, SOMETIMES HIP HOP, POP, ROCK, TRIP HOP, FOLK OR ELECTRONIC, BUT ABOVE ALL THEY STAND OUT BECAUSE OF THEIR PERSONALITY AND PERFORMANCES ON STAGE. RANDOM RECIPE IS PROMOTING THEIR NEW ALBUM, DISTRACTIONS (2018), THE FOURTH ONE IN THEIR DISCOGRAPHY, WITH MORE THAN 10 YEARS OF CAREER.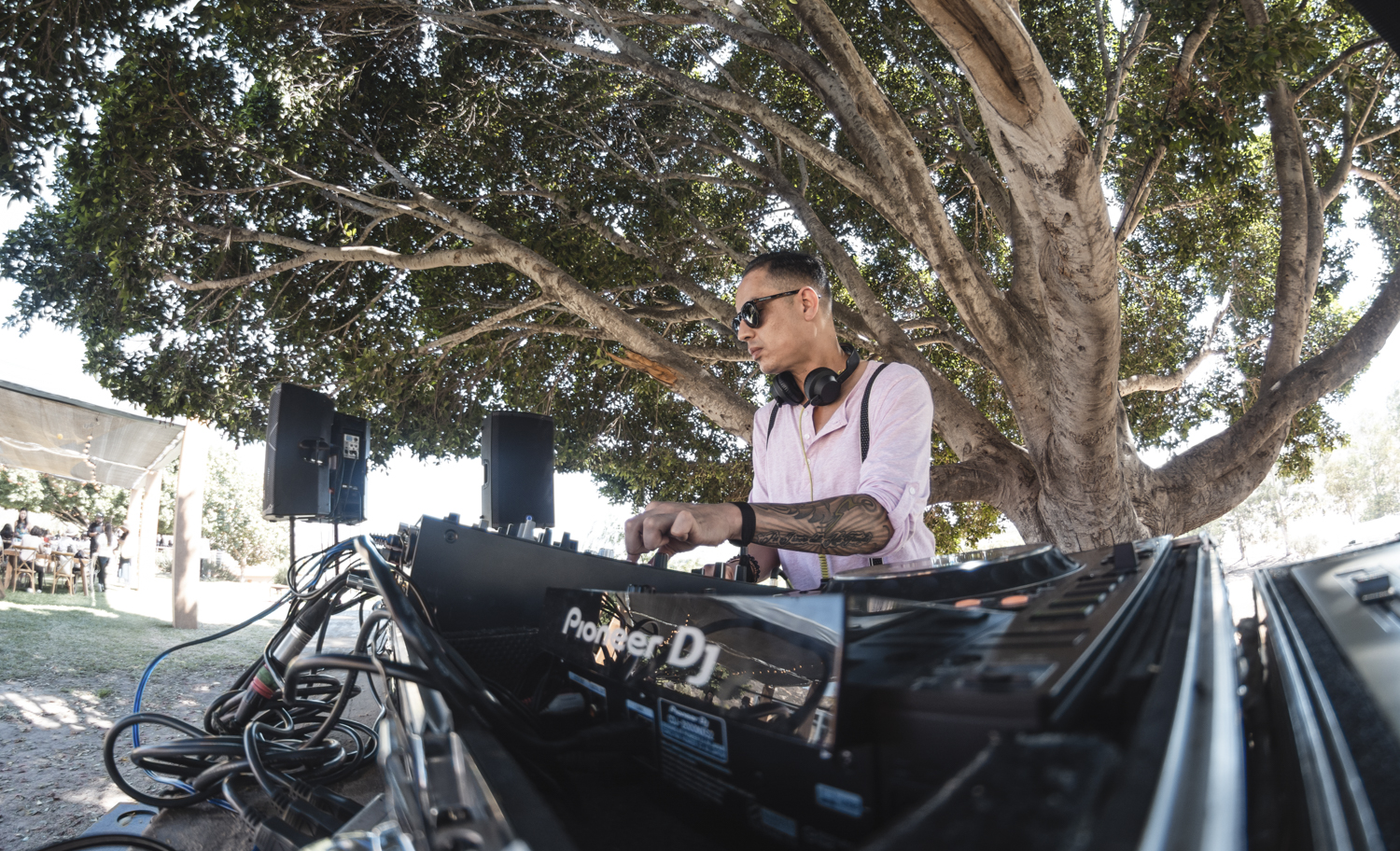 LOVERMAN
GIORGIO BRINDESI IS PART OF THE SELECT GROUP OF DJS AND PRODUCERS IN LATIN AMERICA AND HAS GREAT CREDIBILITY AND DEMAND, THANKS TO HIS TECHNIQUE AND MUSICAL SELECTION.
LOVERMAN, HIS ALTERNATE PROJECT, GIORGIO SHOWS US ANOTHER FACE OF HIS SONOROUS PERSONALITY AND PLAYS SETS WITH MUSIC DESIGNED NOT ONLY TO DANCE, BUT ALSO TO CONNECT WITH EMOTIONS, FEELINGS AND THE MIND.
DJ JHONNY C
DJ JHONNY C IS A MUSICIAN AND PRODUCER ORIGINALLY FROM ENSENADA, BAJA CALIFORNIA, MUSIC LOVER AND LOVES VINYLS.
JUAN IS ONE OF THE DJ RESIDENTS OF TROIKA, IN VALLE DE GUADALUPE, WHERE HE PLAYS SETS THAT MIX DIFFERENT GENRES, FROM SOUL, FUNK, HIP HOP, DISCO, HOUSE AND TECHNO, GOING THROUGH THE NEW WAVE AND THE BRAZILIAN POPULAR MUSIC.